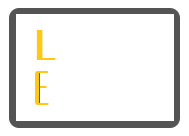 "WORDS CHANGE WORLDS"
FROM THE DESK OF THE CEO
Dear Clients,
Greetings from all of us at Limited Edition!
At Limited Edition, there is a simple philosophy at work; clients are not our audience, but our success partners and in their growth, lies our growth. So wherever they are, we are always in search of opportunities that will make them succeed in their respective professions. In continuation of this philosophy, we at Limted Edition, Asia's leading Government recognized creative & strategic multi functional agency, takes great delight in helping the clients achieve what they seek.
What's more, our ultra-modern offices, our well-qualified team, our extensive database of professionals and dedicated professionals all contribute in making us the best in the industry, a reason why our customers take pride in being associated with us. They know we will provide them with the right services for the required assignment, whatever the constraint.
Lastly, I would like to take this opportunity to extend my good wishes to our esteemed clients & partners who have helped us to reach; for us to be shoulder to shoulder with the who's who of the industry.
I am also grateful to God and all my team members, because without them this feat would not have been possible.
Hope you all will continue to support us in our passion to change worlds.
Warm Regards,
Vishal Mehra
CEO
Limited Edition
From the CEO's desk